Sometimes Ignorance really does mean bliss…
This was my fourth pregnancy and up until this point all my other pregnancies came easily. Each time we decided to have a baby within a month or so I would be pregnant. I have been very blessed in that I have never had to deal with infertility or having it take a long time to get pregnant. Up until this point I never had a miscarriage and honestly I had never had any big conversations about miscarriage with anyone so I wasn't even really aware of how common it can be.
Calm Seas and Smooth Sailing…
I almost immediately came down with the dreaded ALL DAY NAUSEA…a classic pregnancy symptom for me. I started feeling sick a couple days before I even had the chance to tell my husband because I wanted to surprise him on Father's day about the big news. The good thing about being sick during the first trimester is that you feel like…"YES, I'm still pregnant, everything must be going well" So I just did everything as normal, kept to my normal exercise routine, went and saw my normal midwife. We got to hear the babies strong heart beat at our first 10 week appointment. At 14 weeks, we went to the midwife again and it was another standard uneventful trip. Everything was looking great, I was measuring just right and the babies heartbeat sounded great. The next week was our 10 year anniversary and we spent the next weekend celebrating in Astoria for a weekend getaway. I was anticipating being able to feel the baby kicking any day since with my last pregnancy I could feel baby move at that point.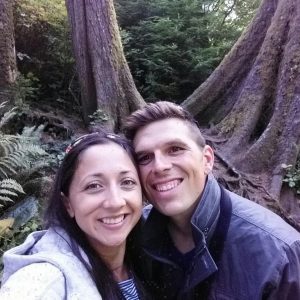 The Dreaded Mother's Intuition…
We came back from our trip relaxed and full of joy, It was the first vacation without any of our kids in years (not that we don't have a good time when our kids are with us), its just a different experience that brings you back to when you were young and still dating. When week 16 rolled around I was really trying to concentrate to see if I was feeling baby…I would think I was and then it would be hours of nothing. I was really starting to worry but I didn't really let on to the hubby at this point. I started googling and realized that the placement of the placenta can hide the babies kicks for longer, so I started to hope and pray that this was the case. When week 17 rolled around and we were suppose to see the midwife for our 18 week check up I started to tell Jacob I was concerned because I wasnt feeling baby move much or at all I was having a hard time feeling like everything was okay. So the midwife did the ultra sound right away and was having a hard time finding the heart beat. I had the deep pit of dread in my stomach…the midwife was trying to not worry me and stay positive but I knew it wasn't going to be good because this was my fourth pregnancy and we have always been able to get a heartbeat. So the midwife was able to have us go straight across the street to the main hospital to get an ultra-sound, the ultra-sound confirmed our worst fear…the baby was no longer alive. Both Jacob and I were able to keep it together until we got out of the hospital and then we were able to just let our grief out as we just held each other and grieved our loss.
Birth…
The next week was the hardest because we found all this out on a Friday so I had a whole weekend to just go home and figure out what I was suppose to do next and I had No idea what that was. I spent hours on google, looking for stories and what people decided to do and why but one thing I did realize was this was more common than I thought, but still not talked about much. The information and experiences of people going through a 2nd trimester miscarriage is pretty low. All these medical terms were thrown around and I decided that I just wanted to try and deliver the baby naturally. As much as I didnt want to have to wait an un determined amount of time I could not handle the D &E procedure where they take the baby out manually and often times, not in one piece…ughhhh just makes my stomach turn thinking about it. So I told my midwife my plan, I just had to try and jumpstart labor…I tried some home remedies like cottonwood bark tincture but nothing was working. At this point the ultra sound tech thought the baby stopped growing at 15 weeks so I was on a deadline to deliver the baby within a month of the death of the baby. So with no other options left, we decided to book an induction at a nearby hospital/midwifery care center. I tell you, there's nothing like checking into labor and delivery and everyone looking at you funny and asking you why you are there…UGH!!!
So anyway, after waiting a few hours, then getting a nurse to come take blood work missed the vein and started digging the needle around to find the vein….literally the worst experience ever, and I have had a lot of blood drawn. I mean, I'm pretty good with pain but this was kinda horrible. So another person came and re-poked me and got all the blood work done…this whole process seemed to take the entire day. I just wanted to get the whole induction process started and I felt like I sat around forever!! Finally they gave me some oral induction medication and I just sat around the room and waited with Jacob. They hooked my belly up to a fetal contraction monitor since I have a c-section scar from my first pregnancy. After the 2nd dose it was time to get some sleep, I told them I was feeling small contractions but since they couldn't see anything on the monitor they left me alone. I got a 3rd does of medicine sometime in the night and by about 4 am I was having contractions I could no longer sleep through. I told the nurse but they told me they were still not picking up and contractions on their monitor. I tried to kindly remind them this was my fourth baby and I know what contractions feel like…At this point I was starting to feel annoyed that I had to be strapped to the bed I was just too uncomfortable. Not long after this I started getting the worst diarrhea from the medication so I was thankfully able to get unhooked from the machine because I had to get up so often. Finally, they believed me that I was in labor even though I was basically in a room by myself laboring with my Husband. I tell you I could not be more grateful that I had been through natural un-medicated labor twice because I knew what to expect to a certain degree and it was nice that Jacob knew kinda the ropes on what to expect and how to help me, since we were pretty much a lone.
It was only like 30 minutes to an hour before this active labor that the nurses had checked my cervix with no progress which is the main reason they kinda didn't think I was close to delivery. I just have to say that the pain of these medicated contractions compared to the two natural water births I had were almost  unbearable. I really was struggling to get through them without pain meds, I was able to walk back and forth from the bathroom and hang on Jacob for support remembering everything my midwife taught me with my other labors, so I would try to squat down during a contraction to help the baby move down but it was pretty painful, and not just physically but emotionally at this point. I was having a hard time coping with such an extreme amount of pain knowing the outcome.
Finally I leaned on Jacob in between a contraction and just prayed to Yahweh(God) that he would help carry the burden because I really felt like I cant do this anymore, its too hard for me! And of course because He is so faithful… the VERY next contraction I felt movement and I waddled over to the bathroom and felt between my legs and I could feel the baby. I yelled at Jacob to get a nurse to catch the baby so it didn't end up on the floor.
So in one gentle push our sweet baby came out in still in the amniotic sac. I marveled at this 2nd prayer answered because after everything I had read I was worried that his delicate skin and body would come out in pieces scaring me for life. But he was so perfect and still. The midwife opened the sac and let us hold the baby wrapped in a towel. We cried and were able to just grieve this life that we so badly wanted but coming to terms with the reality. We were able to see that the baby was indeed the little boy we were praying for. The midwife also informed us that she thought the babies features and growth was closer to a 17 week old baby not 15. Which made me feel better about not being able to get my body to go into labor at home, it probably just needed more time to realize the baby was no longer alive. But hindsight is always 20/20.
We opted to have no post mortem done, for us it didn't matter why it happened the outcome was still the same. Because the baby was under a certain amount of ounces we were able to take our sweet baby home and bury him on our own property, instead of him ending up in a trashcan or who knows where else.
Healing…
If you are wondering…No, I am not mad at God or life, things happen and life is full of heartbreak. I choose to believe that Yahweh(God) has plans for my life that I don't understand and to try and understand them would be impossible. Knowing that even though this little baby looked perfect there could have been unseen genetic abnormalities that happen all the time. I don't want to focus on the loss as something stolen from me. Life is such a precious gift and we all should be thankful each day we wake up breathing. For me, I am blessed I have three amazing children to fill up my days with joy. And I am also faithful that Yahweh(God) is going to continue to bless this family in his own time. I spent a full week right after this camping with a whole group of my church family and it was a very healing time. My normal reaction to pain and heartache is too clam up and keep to myself. But when I was doing all my research everyone said to talk to people it will help you heal faster so I forced myself out of my comfort zone and just cried with people who wanted to listen. And I also found out that a lot of women have gone through the same things. Miscarriage is common, but not commonly talked about. I mean really, who wants to go down that road of pain but when your story can help someone else, re-living the hard part is worth it. People telling me their stories helped me heal and understand that we really aren't alone, even when it feels just like that.
I hope this post can help someone out there who needs to know they aren't alone. I scoured the internet for stories and truthfully there just isn't much info out there on late 2nd trimester miscarriage.